PRE-ORDER: 'The Populist's Guide To 2020'
We'll Send You A Personalized Video! And We're Doing A DC Show!
We're VERY excited to announce that our book is now available for pre-order!
As a special thank you to anyone who pre-orders the book, Krystal and Saagar will send you a personalized video! Just forward your receipt to krystalandsaagar@gmail.com OR reply to this email with a screenshot!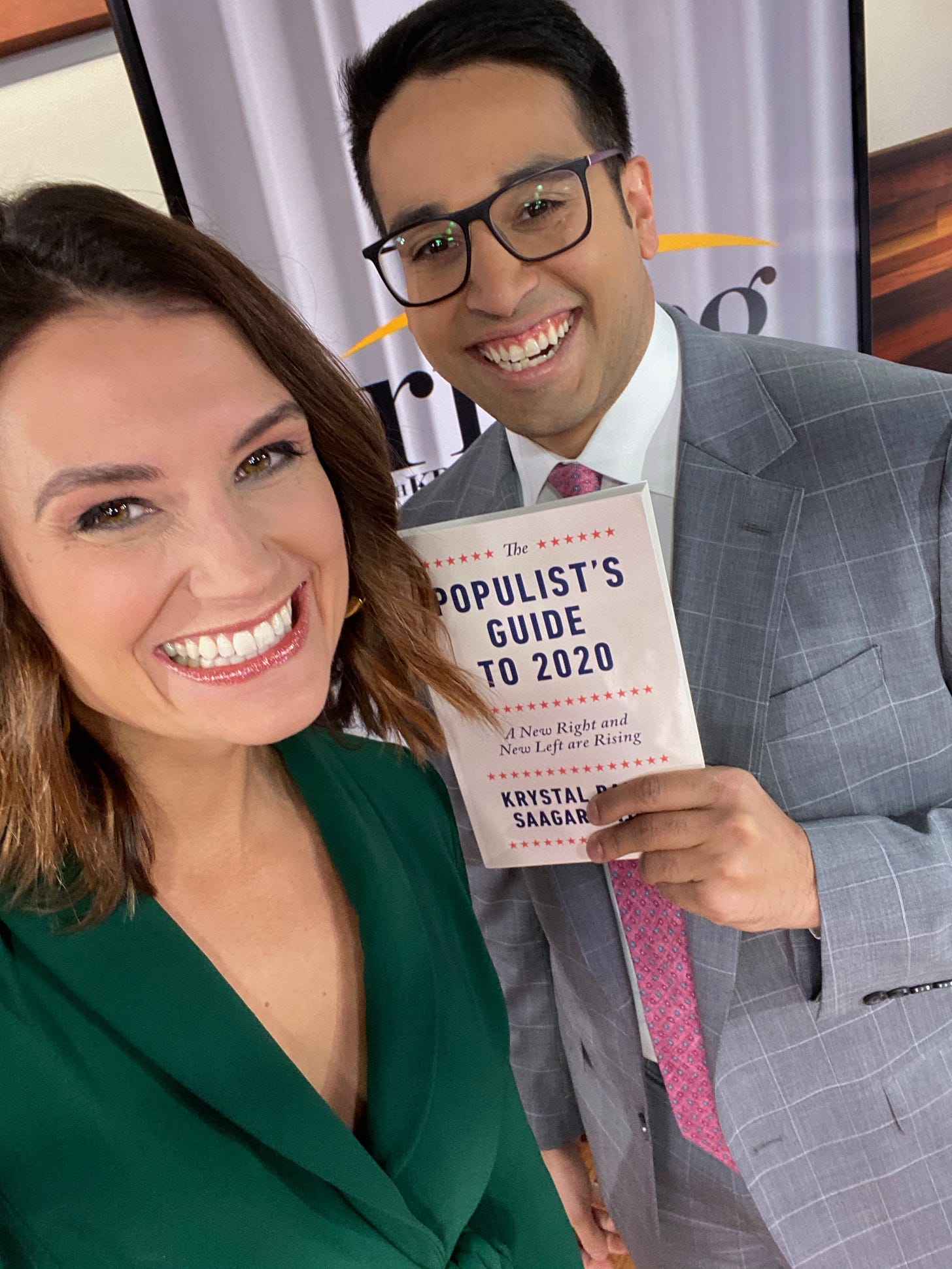 Where You Can See Us
1) Don't Forget! We're launching the book in Los Angeles on February 8th with special guest Jimmy Dore! VIP Tickets are already sold out but general admission seats are still available. Come meet us!
TICKETS: https://www.eventbrite.com/e/risings-krystal-ball-and-saagar-enjeti-live-w-special-guest-jimmy-dore-tickets-88540806937
2) We're coming to NYC on March 6th with special guests Michael Brooks and Kyle Kulinski for a special live book show. VIP Tickets have sold out for this one as well and general admission seats are selling out fast!
TICKETS: https://www.eventbrite.com/e/risings-krystal-ball-and-saagar-enjeti-live-tickets-88550184987
3) By popular demand we're doing a DC show on April 24th! Special guest announcements to come, but let's just say it will be a STACKED stage of hometown talent. All VIP tickets come with a signed copy of the book
TICKETS: https://www.eventbrite.com/e/risings-krystal-ball-and-saagar-enjeti-live-tickets-91618492377
What They Are Saying:
"As we saw in 2016 and we're seeing in 2020, many in the mainstream media just don't get what's going on in this country. Krystal and Saagar, however, see the trends that are impacting Americans across this country, which is why their election coverage has been some of the best out there. They're some of the only people talking about the need to rewrite the rules of the 21st century so they work for Americans again."
- Presidential Candidate Andrew Yang
"The striking thing about revolutionary moments is that almost nobody understands them as they're happening. Saagar Enjeti and Krystal Ball do. They know exactly what's going on in our country right now, and they can explain it with near-perfect clarity. This is a tremendous and important book."
- Fox News Host Tucker Carlson
"Krystal and Saagar weave a poignant and righteous web of reflection of the political climate we are in. They call out the role elites of both the Democratic and Republican parties play, including the mainstream media, in propping up a rigged system that ignores the needs of the working poor and middle class. This is one of the best political books I always knew I needed. Ultimately, The Populist's Guide to 2020 reminds us that no matter how the elites try to thwart the progress of the majority, our Rising is in our hands."
- National Co-Chair Bernie 2020, Former Ohio State Senator Nina Turner
"Rising brings a refreshingly bold and rare voice, shining a spotlight on how inextricably tied together the corporate media, foreign policy establishment and war machine are in Washington. While representing different ends of the political spectrum, Krystal and Saagar bring voice to so many Americans across party lines who have had enough of the stupid, wasteful wars the war machine is championing that have cost us so much in lives and taxpayer dollars. Ending the pay-to-play culture in Washington can only happen with leaders willing to speak the truth. Krystal and Saager are unafraid and doing just that."
- Presidential Candidate and Congresswoman Tulsi Gabbard
"Krystal and Saagar are the indispensable new media stars. They're raw truth tellers beholden to nobody and nothing but their own conscience. They marry the populist left and populist right in a perfect balance of outsider wisdom. They're the future of politics and this book demonstrates that perfectly."
- Justice Democrats Co-Founder Kyle Kulinski